My Big Fat Greek... EVERYTHING!
By Melissa Monette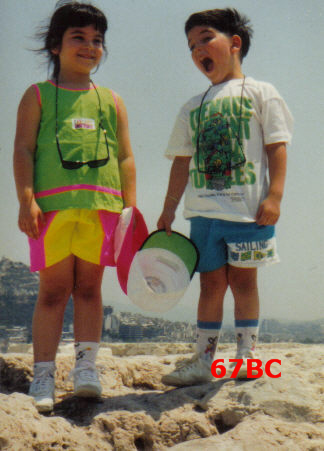 Peter with his sister Maria
The Titans. Zeus. Hercules.
When most people hear these mythological beings, the first thing that comes to mind is history, Gods or Disney movies. Most never think of Greek history, its heritage or myths at first. The Titans, Zeus and Hercules are just a few in a long list of Greek stories that we all grew up listening too, learning about and enjoying. Greek heritage, like many others, has become part of all of us with their stories. For Ottawa 67, Peter Tsimikalis, Greek tales where also bed time stories but coming from Greek decent, stories where not the only thing that he learned.
Peter's grandparents came to Canada from Athens, Greece over 40 years ago. Once here, the Tsimikalis' started a family that progressed into, two aunts, one uncle, two first cousins and almost seventy second cousins. Being from Greece, Peter's grandparents have tried to instill Greek heritage into all of their children and grandchildren.
"Our family is very big and very close," Mrs. Tsimikalis said. "We all get together every Christmas, Easter and for every birthday." Greek heritage is important to the family, but just being Greek is good enough for Peter. The heritage and traditions that come along with it are an added bonus.
"I am proud to be Greek, they have a good reputation in history. We have good ancestry and our country is so beautiful," Peter commented.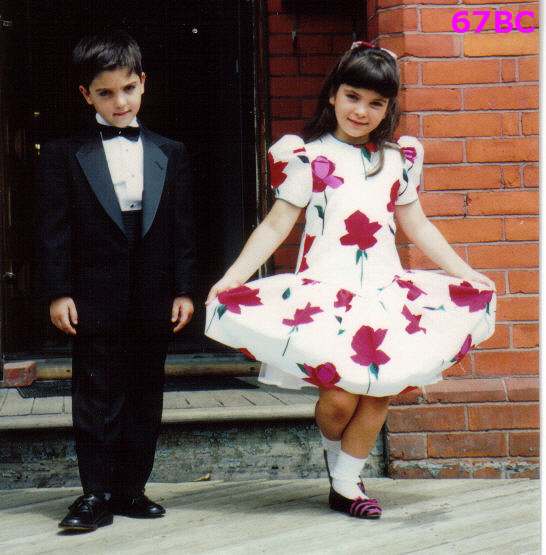 Peter and Maria
At the age of three, Peter's parents noticed that he had become very interested in the sport of Hockey. Peter would always wear his father's hockey equipment and play mini-sticks with a golf ball in the house. He told his parents that he wanted to play and once Peter hit five years old, his parents put him on skates.
"He is obsessed with hockey and always has been. Peter has always wanted to play hockey and always gave up going out with his friends to parties and movie to do it," Mrs. Tsimikalis laughed. Naturally, Peter's parents encouraged his 'obsession' and pushed him to do well.
While doing well in hockey was very important to Peter and his family, doing well in school was equally important. Peter was tested as a gifted student when he was younger and has always had high marks in school. His strive to be the best became stronger when Peter entered the world of hockey.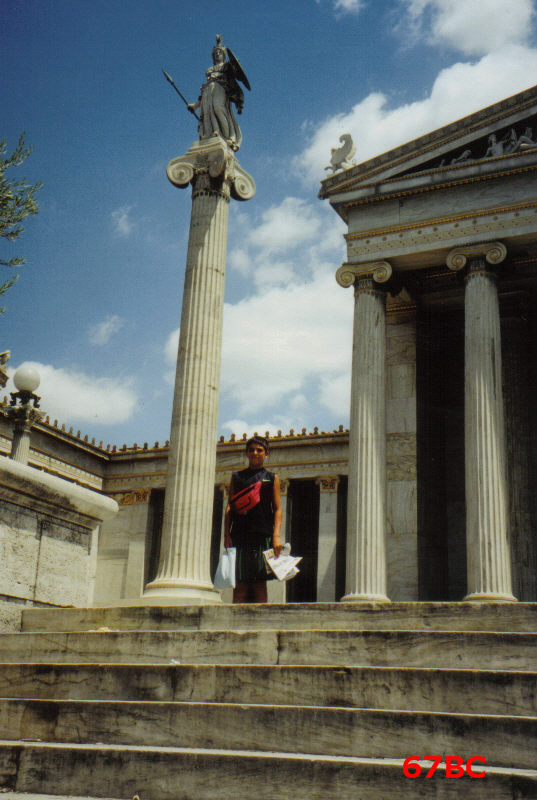 Peter when he was eleven years old in Greece
Peter's competitive edge began to really show once he was enrolled in hockey. He would always try and outdo his sister, Maria in everything, including sports and school.
"Maria and Peter are only fourteen months apart in age and he has always tried to bet Maria in everything. He has dreamed of being big since he was little, and competing at different things has helped him push himself to where he is today," Mrs. Tsimikalis said.
Peter's parents are not the only ones that support his hockey playing. Mrs. Tsimikalis tapes some of Peter's games and the converts them to European style video so that she can mail them to Greece for the rest of the family.
Greek traditions are another thing that are taught within Peter's household.
"I've always grown up learning about my heritage. I've always been told stories about my family, the myths and about our culture," Peter commented. "My favorite thing that we do, as a family, is get together for Easter. We dye eggs red and crack them." In Greek Orthodox traditions, at Easter time they dye eggs red, crack them and share them with each other. They do this to symbolize the honor and blood of Christ. Greek Easter normally falls once week before or after Christian Easter.
For Christmas, the Tsimikalis family goes to Christmas Eve mass. The next morning they open their gifts and then take up another Greek tradition, eating, and eating a lot. The meal begins at ten o'clock in the morning and they eat until almost six o'clock in the evening.
Both celebrations bring the family together. The gatherings take place at either the Tsimikalis home, relative's homes or at one of the cousin's restaurant.
When Peter was eleven years old,he and his family went to Greece to visit more family. He has great aunts, great, great aunts and great uncles that live in Greece. While he was there, Peter decided to go inline skating.
"I had brought my roller blades because I love skating and when I started to blade around, all of these German children where watching me. They thought I was a professional skater in Canada. I ended up teaching some of them how to skate and they thought it was the greatest thing ever," Peter laughed.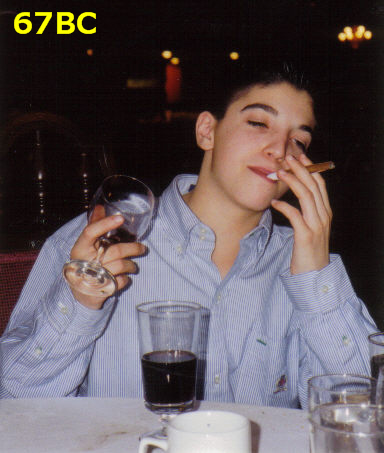 Peter at one of his family gatherings
In Greek mythology, the Titans were greater than the gods. They ruled their entire universe with an iron fist and no one could cross them. In his time with the Ottawa 67's, Peter has shown that he can handle anything that is thrown at him. Ancestry may be important to learn as a child, in order to share it with children that are to come in the future, but knowing about it and following it are two different things.
Greek mythology always showed strong warriors, who worked hard in battle and won at any cost, such as Pericles, Hercules, and Zeus. Peter may not be written down in Greek mythology as one of their great Gods, but he will be written down in 67's history as a great player from a team that is greater then all others because of it's determination, effort and will to succeed. Peter is one of many 'Titans' that prove every game that they deserve a place among the 'Gods'.