The Softer Side
By Victoria Terris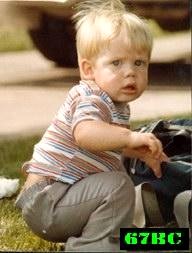 Adam in his younger years.
As the Ottawa 67's head up for a line change during any given game, fans can normally expect certain things from certain players. Some players score goals, other shut down the other teams forwards, different players are playmakers and some are bone crushing and hard hitting. Every player has a different style of play and when one Ottawa 67's forward hits the ice, everyone knows just what to expect and after a big hit, you can hear the cheering and chanting, "Smitty! Smitty!" They do it with good reason. When 19 year old, Adam Smyth steps onto the ice fans, players and even referees expect crushing hits, fights or a few words for the opposing team. That aside, he can always be counted on to inspire the team and fans. What many of those do not know is that besides being a tough guy on the ice, off the ice Adam is a young man who is kindhearted, phenomenal with children and has plenty of religious faith. This is the Adam that is hidden behind his tough guy persona.
Although his reputation as a tough guy is well known to everyone that follows the Ontario Hockey League, Adam does not find that his reputation is undeserved. "I came into this league and made a name for myself," Adam comments. "At times, I do like having that reputation, like when you play a tough team in the league, but at other times I dont, especially when the refs blame me for everything that happens." Because of his reputation, many people naturally would assume that Adam has the same sort of tough character off the ice as well. This is far from the truth. "I'm a completely different person off the ice. Im a caring, loving person off the ice." Deep down Adam is not as tough as he seems.
Being such a big kid at heart, when he was 15 or 16 he had to have his wisdom teeth taken out and before he had his surgery, he saw a small child with a teddy bear. Adam did not have a bear but as soon as he saw it he asked if he could have one too. When Adam came to after his surgery, he found that underneath his arm was a teddy bear and on his bum was a sticker that said he was a good patient. "Some of my close friends tease me for being a big softie," Adam commented about his friends back home, "but its ok because they have known me for so long that they know what I am like as a person."
Adam posing for pictures at a recent Skate With the Players
Home is another strong element of Adam's life. When he goes back home to Wiarton Ontario, in the summer Adam has lots of fun in his small and quiet town. Besides seeing family and friends, being at home gives Adam a chance to spend time with his two dogs, a Beagle named Buddy and a Yellow Labrador Retriever named Wendell. Being away form home for Hockey has allowed Adam to see his hometown as a place where he would still like to live in the future, "Hopefully someday my career will let me be close to home. It's where I'd live the rest of my life."
Not only does Adam act like a big kid occasionally, but he also gets along with children quite well. Adam has taken some of his neighbor's children fishing. He also spends time playing road hockey with them. As told by Adam's billet Sandy, even here in Ottawa, Adam and some of his friends have spent hours playing road hockey with Sandy's son, Justin and his friends. "Adam will go down the street about once a week for a good hour or so and play with the kids, they love it and he has a great time too," Sandy said. Not only does Adam spend time with the neighborhood children by fishing and playing road hockey Adam also baby-sits and when he was 13 he took a babysitting course. To this day he still baby-sits the neighbor's children.
Whenever there are team functions that children are able to attend, especially the 67's Booster Club's Skate with the Players, Adam is often listed as one of the top players in demand. Adam believes that the reason for his popularity with children lies in the fact that he takes the time to talk and interact with the children. Adam also feels that it helps that he is seen as a funny guy who is pretty entertaining to young audiences.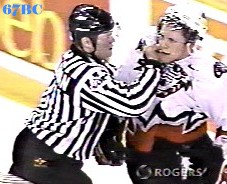 Adam being escorted off the ice
Neighbor's children are not the only thing that Adam looks out for. Each night before Adam goes to bed he makes sure that his billets cats are in the house. "Adam is not very fond of the cats, but every night he goes around the house and makes sure that they are both safe and inside the house where they can't get hurt. Even thought he dislikes them he still is so gentle hearted that he has to make sure that the cats are inside," Sandy laughed.
Children are important to Adam but there are to her things that are important to him also. Faith and religion play an important role in Adam's life. "It's been a big part of my life from when I was young. In the summer, I go to church every Sunday," Adam said. Religion can provide support to anyone who is in a time of trouble and Adam backed this up when he commented, "It gives me something to believe in, even when everything else is going wrong." In the past, Adam was an alter boy in his church. Even though he is older now, he still is active in his church. During mass Adam does the Children's liturgy. He teaches what is being said at mass to the children in a level that they can understand so that they can appreciate it just as much as any other adult.
Adam's tough guy persona may not help him in the church or with the children but he is currently taking Police Foundations at Algonquin College, and tough guy attitudes can defiantly help him out in this department. "I want to pursue a career as a police officer," Adam said. When asked if he would like to work with children he said, "that has to do with kids and I believe that I have the skills to work with kids and help them by teaching them what I have learned."
With such a tough guy persona, it will be hard for Adam to ever shake the stereotypes on the ice. Every fan knows that Adam Smyth is the enforcer on the ice but off the ice he is a kindhearted and loving person. Next time you hear a crash or a bang against the boards, you can rest assure it is probably Adam, but know that behind the hard hit is a heart of gold.